Prof. Stuart LYON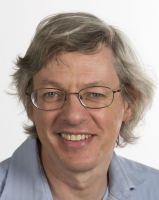 The University of Manchester, United Kingdom
At the METAL´19 conference Stuart Lyon will present an invited lecture at the session D.

Academic and professional qualifications
2006: Fellow and Chartered Engineer of the Institute of Materials Minerals and Mining (IoM3)
2002: DSc, University of Manchester Institute of Science and Technology
1998: Fellow and Chartered Scientist of the Institute of Corrosion (ICorr)
1983: Ph.D., Metallurgy and Materials Science, University of Cambridge
1976: MA, Trinity College, University of Cambridge

Present employment
2012-present: AkzoNobel Professor of Corrosion Control in School of Materials, Faculty of Engineering and Physical Science, The University of Manchester
Internal service roles (School of Materials)
2012-present: Academic lead for corrosion research group
2014-16: Director of Research and member of management team
2010-12: Member of management team

External service roles
2008-present: Editor-in-Chief, Corrosion Engineering Science and Technology
2004-06: Executive President Institute of Corrosion (pro-bono)
2006-12: Chief Executive Officer/Managing Director, Correx Ltd, for ICorr (pro-bono)
2000-present: Member of Corrosion Committee of IoM3

Awards and distinctions
2014: Guy Bengough award, Institute of Materials, Minerals and Mining
2012: Grande Medallion of the French Corrosion Society, Cefracor
2007-08: CSIRO Distinguished Visiting Research Fellow, Australia
2000: IT Watkins Award, Institute of Metal Finishing

Brief biography
Stuart Lyon grew up in the West of Scotland and undertook his undergraduate and Ph.D. degrees at Cambridge University studying metallurgy and electrochemistry. He joined the Corrosion and Protection Centre at the former University of Manchester Institute of Science and Technology in 1983. He was awarded the DSc degree from UMIST in 2002 for research into atmospheric corrosion and protective coatings and the Grande Medallion of the French Corrosion Society in 2012 for his contributions to the subject.

Research interests
Stuart Lyon's interests span most aspects of corrosion and corrosion protection however he is best known for his work on mechanisms of atmospheric corrosion, corrosion inhibition and corrosion protection by organic coatings. He is interested in multi-analytical approaches to problem solving and mechanistic understanding and some 15 years ago was the first to elucidate the mechanism for the 1st generation of chromate replacement pigments used in controlling cut-edge corrosion on coil-coated steel. He has collaborated with International Paint (now part of AkzoNobel) for over 20 years and for the last 7 years has held the named AkzoNobel Chair in Corrosion Control. His research group collaborates widely with other colleagues in the School of Materials and more widely in the Faculty where complementary expertise assists the research.